The economic landscape of India has propelled itself into one of the fastest-developing economies in the world. Over the last two decades, there has been a marked increase in the Gross Domestic Product (GDP) in India as shown below: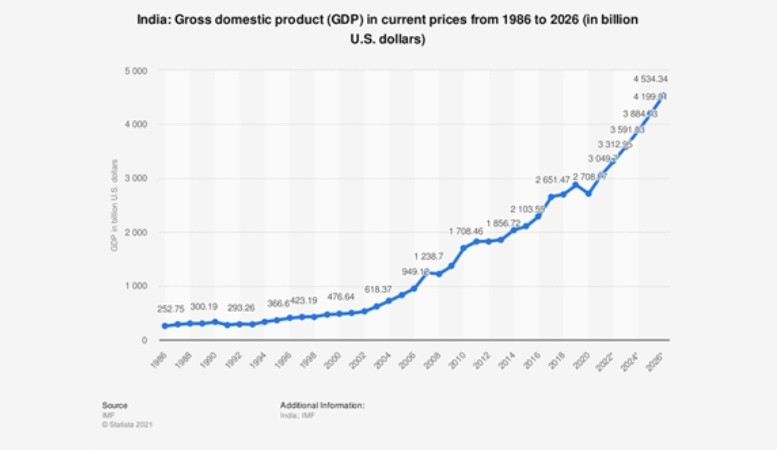 This has resulted in changing lifestyles of Indian households stemming from rising disposable incomes and easier access to credit. With technology booming during the same period, the Indian economy saw the optimum use of technological tools by businesses to establish profitable ventures and generate employment opportunities.  
Global & indian electronics industry landscape – An overview 
In March 1946, Eckert & Mauchly founded Electronic Control Co., the world's first electronic computer company. Over the next seven decades, the electronics industry experienced exponential growth with companies specializing in various electronic components opening across the globe. 
In India, the electronics industry dates back to the 1960s. While the industry in India at that time was restricted to telephonic and telegraphic communication and primarily owned by the government, things took a major change in the 1980s. This was when Indian markets were liberalized and the economy took giant strides towards globalization. The Indian Government further boosted the electronics sector in the country by allowing private investments from both domestic and foreign investors. This was supported by easing the norms surrounding foreign investment, permitting 100% foreign equity, reducing customs, and relicensing various electronic products. The primary expansion happened in the production of computers and consumer electronics.  
Evolution of indian electronic companies 
This period also led to the evolution of Indian electronics companies with favorable government policies, easy access to funds, availability of skilled manpower, and a domestic market where the demand for electronic products was increasing exponentially.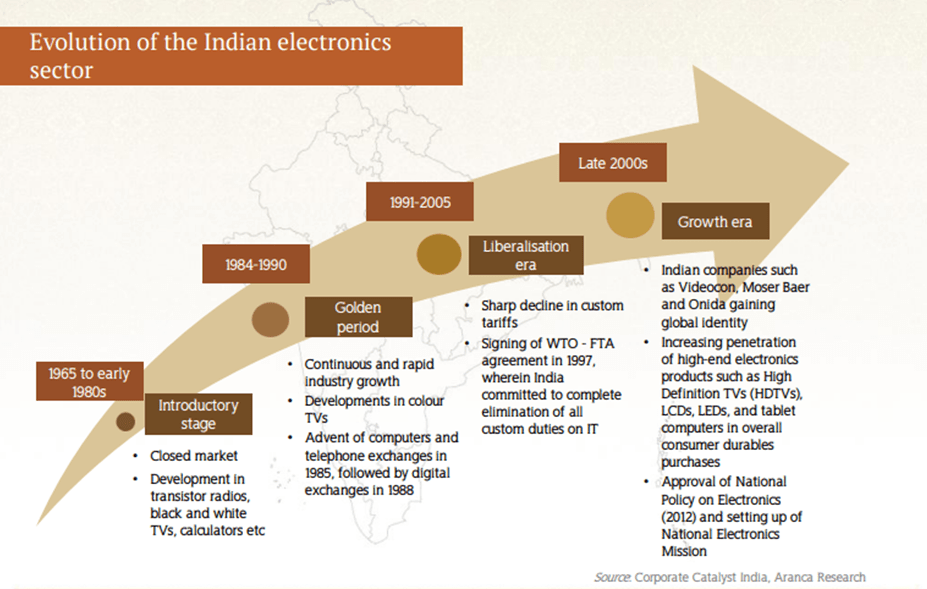 TVS Electronics entered the Indian electronics manufacturing space in 1987, with the objective of offering affordable and reliable IT peripheral solutions. This was the time when IT peripheral and printing solutions were provided primarily by international companies and there weren't any Indian brands in the space. 
TVS Electronics entered the industry with a clear intent of serving the under-served segments of the economy by delivering affordable IT peripherals. It has been a leader in the Dot Matrix Printer space for over three decades and entered the Point-of-Sale solutions space in early 2000s.  
The ethos of TVS-E is 'Innovating for India and Taking IT to the Heart of India.' It has evolved from being a manufacturer of IT peripherals into offering a wide range of product solutions for multiple industries. These include Retail Enterprises, PSUs (Banks, NBFCs, Railways, Energy and Power Corporations), Supply chain and logistics including E-commerce among others. TVS-E works on the concept of 'infinite evolution' where the company anticipates and adapts to new developments and offers updated solutions to businesses. 
TVS Electronics also pegs equal importance to after-sales solutions spanning a vast spectrum of offerings that is supported by a robust Plug 'n' Play infrastructure. It seamlessly connects service partners, engineers, spare parts supply chain and brands through a digital platform. Right from Installation and Demo Services to Warranty Management Services, Call Centre Services, Parts Management, Critical Component Repairs, E-recycling (EPR filing and management) and E-Auction; TVS Electronics offers after-sales services across a wide range of products including IT products, Smartphones & Consumer Electronics.  
TVS-E is not just taking IT to the heart of India; it is evolving into a complete customer-centric solutions company in the Indian Electronics landscape.  
The current landscape – Indian electronics industry 
In the last five years, the Indian Electronics Manufacturing Industry has grown at a CAGR of around 23%. In fact, the domestic production of electronics hardware has reached around USD76 billion in 2019-20. Currently, the Electronics Manufacturing Industry in India accounts for more the employment of millions of people.  
The National Investment Promotion and Facilitation Agency, Invest India has launched four schemes to position India as a global hub for Electronics System Design and Manufacturing (ESDM) over the last two years, namely: 
Production Linked Incentive Scheme (PLI);

 

Scheme for Promotion of Manufacturing of Electronic Components and Semiconductors (SPECS);

 

Modified Electronics Manufacturing Clusters Scheme (EMC 2.0); and

 

Production Linked Incentive Scheme (PLI) for IT Hardware

 
The Indian Electronics Manufacturing Service (EMS) Industry is expected to grow 6.5x from USD23.5 billion to reach USD152 billion by 2025. 


Summing up 
The Indian Electronics Market is growing at a rapid pace with the country set to be one of the largest electronics manufacturing hubs by 2025. Also, the thrust on digitization and increase in technological penetration in the country has acted as a major growth factor for the industry in the country. In such a landscape, companies like TVS Electronics offering end-to-end solutions throughout the product lifecycle journey, contract manufacturing, repair services, warranty ,management services, e-waste management & e-auction services, can work as catalysts to the change and help India achieve the goal of becoming a USD1 trillion digital economy by 2025.  
Since our intent is to innovate and bring IT to the heart of India, you can write to us for any Business queries here.