DYNAMIC PERFORMANCE.
DELIGHTFUL OUTPUT.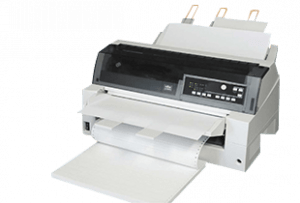 The printer with high performance, the TVS DP5000 Platina Plus
has a high printing speed of 606 CPS, making it the best choice
for heavy-duty data processing, with intensive usage.

The top print speed, aids easy and hassle-free printing

Prints easily on all kinds of paper, including thick stationery.

Flat bed printing prevents any paper jam, irrespective of
paper

Unbeatable reliability with 20,000 hours of power life

Suitable for printing documents at a large volume, clocking
1200-1500 pages a day

Best situated for Reports, Statements, and Ledgers
High Speed High Performance Passbook Printer. 24 Wire, 94 ColumnHeavy duty Passbook printer with high speed 580 cps and highperformance

Reliable, fast, and powerful 580 CPS speed

Choice of Interface USB / Parallel / Serial

Supports Passbooks Vertical or Horizontal

Print Head life: 400 Million Characters