DYNAMIC PERFORMANCE.
DELIGHTFUL OUTPUT.
TVS-e Cash
TVS-e E-cash Register Machine
Thriving businesses deserve a reliable partner. TVS Electronics' E-cash Registers are tailor-made for businesses, thanks to its rugged build and efficient output. Designed to handle long working hours, our cash registers endure!




PRINTS DIFFERENT
TYPES OF REPORTS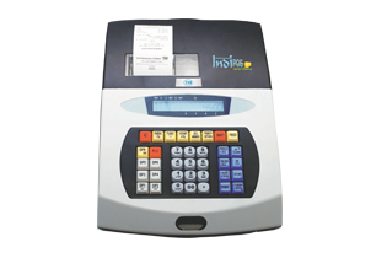 Designed to work in most challenging terrains, TVS PT-262 is one of the most preferred billing terminals and empowers Indian retailers who prefer an electronic register over a personal computer.


Easy to install, no more installation hassles


The built-in thermal printer offers extreme speed


Compact and light – weighs only 2 kgs


Zero Maintenance – Low Servicing Costs, Non-Stop Billing


Non-Stop billing, built for an effective and efficient experience


Tracks sales by printing reports, Commission Reports, Bill-wise summary, Monthly reports and many more.
PT 235 is a compact, lightweight, multi-functional handheld Electronic Cash Register with a KOT feature, allowing retailers to operate the machine seamlessly with their existing POS. It has a rapid print speed and an inbuilt battery for prolonged usage with an automatic sleep mode that powers down when idle. It comes with an intuitive bank-level security design for data protection.


Print speed up to 150mm/s


Super tiny, unique front paper-out design


Long battery life – prints 1500 receipts continuously


Wonderful touch button experience

Designed to work best for small time retailers, this Point-Of-Sale TVS PT-3124 is the preferred billing terminal, and empowers Indian retailers who prefer a state-of-heart electronic register over a personal computer.


Simple to use and dynamic, clocking 150 mm per second


Rugged, durable and easy to maintain


Designed for Operational efficiency and improvement performance


Environment friendly, works even in the most rugged terrains