If you would time travel back in the early 90s and introduce a keyboard that's mechanical with accuracy, precision and way faster than the regular keyboard. Then, it would certainly be a very strange affair. Well, they would be right then. There was almost zero need for an advanced mechanical keyboard when a simple keyboard was meeting the demands without any problem. 
Agreed. But this is 2021, the digital era!  
The presence of electronic technology has mounted onto our lives, demanding speed, accuracy and precision for high deliverables. Of course, a standard keyboard would not be efficient to handle complex tasks. So, how can you find an alternative? Or rather, an upgrade? 
The answer is Mechanical Keyboard. Whether you are looking for a keyboard for your professional or personal use, the most important requirement is speed, accuracy and delight with each keystroke. A Mechanical keyboard is an ultimate choice for the freedom of typing with speed and accuracy along with the excitement of the 'click'! 
What Is A Mechanical Keyboard?
Mechanical keyboards are the classic sturdy keyboards that use individual springs and switches for each key. In simpler terms, mechanical keyboards consist of an actual physical switch that gets activated when you press a key. It registers each keystroke separately and gives a precise feeling because each click is forcing a low-friction mechanism to slide down a shaft that's actively resisted by a spring. The mechanical keyboards are extremely user-friendly, compatible and a go-to option for professionals who don't take their eyes off the screen while typing i.e touch typing. It is most useful for professionals working in the banking/insurance sector and even advantageous for programmers, pro-gamers and coders – where the users require speed and accuracy. 
There are three main types of mechanical switches 
Linear Switch:




It is the simplest mechanical switch in which the key registers the stroke and hits the switch linearly. It's known for its fast and unambiguous control. Linear switches produce a smooth, consistent actuation without any tactile feedback. It is great for people who don't like the small bump experience or the loud noises from clicky switches. Mechanical keyboards with linear switches are usually quiet, smooth, and consistent throughout the entire movement. They are especially used by gamers as the consistent keystrokes allow for more precision in highly competitive games and also well-known in the banking and insurance sector for data analysis.

 

Tactile Switch:




It is similar to the linear switch but it has a bump at the actuation point. This switch produces a tactile bump and a relatively quiet audible click with each keystroke. Mechanical keyboards with tactile switches produce a click sound confirming the keystroke when typing and are satisfying and fun to use.

 

Clicky Switches:




It is a variation of the tactile switch that is unapologetically loud and bumpy. Mechanical keyboards with clicky switches produce tactile bump and loud audible click with each keystroke, thus offering great feedback and a fuller experience while typing. Some may find it noisy, while others may groove to its clicky tune.

 
Here's why you should upgrade to a mechanical keyboard 
Typing is a profound activity. Each click on the keyboard should reverb a perfect and appropriate reaction. This is provided by the mechanical keyboards. Modern mechanical keyboards are now getting popular as they can be easily connected to a laptop or a tablet, boosting the efficiency of the device. There are plenty of options in the market today, but there are no filters whatsoever to segregate the good, the bad and the ugly. Hence, we've picked the best-of-the-best mechanical keyboards for your most satisfying typing experience. 
TVS GOLD – MECHANICAL KEYBOARD
TVS GOLD is the mark of durability and offers great value for money. This Mechanical Keyboard is the best for pro-typist as it provides a very hands-on approach with tactile switch feedback, firm key-grip and a well-built solid framework. The TVS Gold Mechanical Keyboard has been a flagship product for TVS, that has powered PSU's like LIC, NBFC and the banking sector for over 3 decades.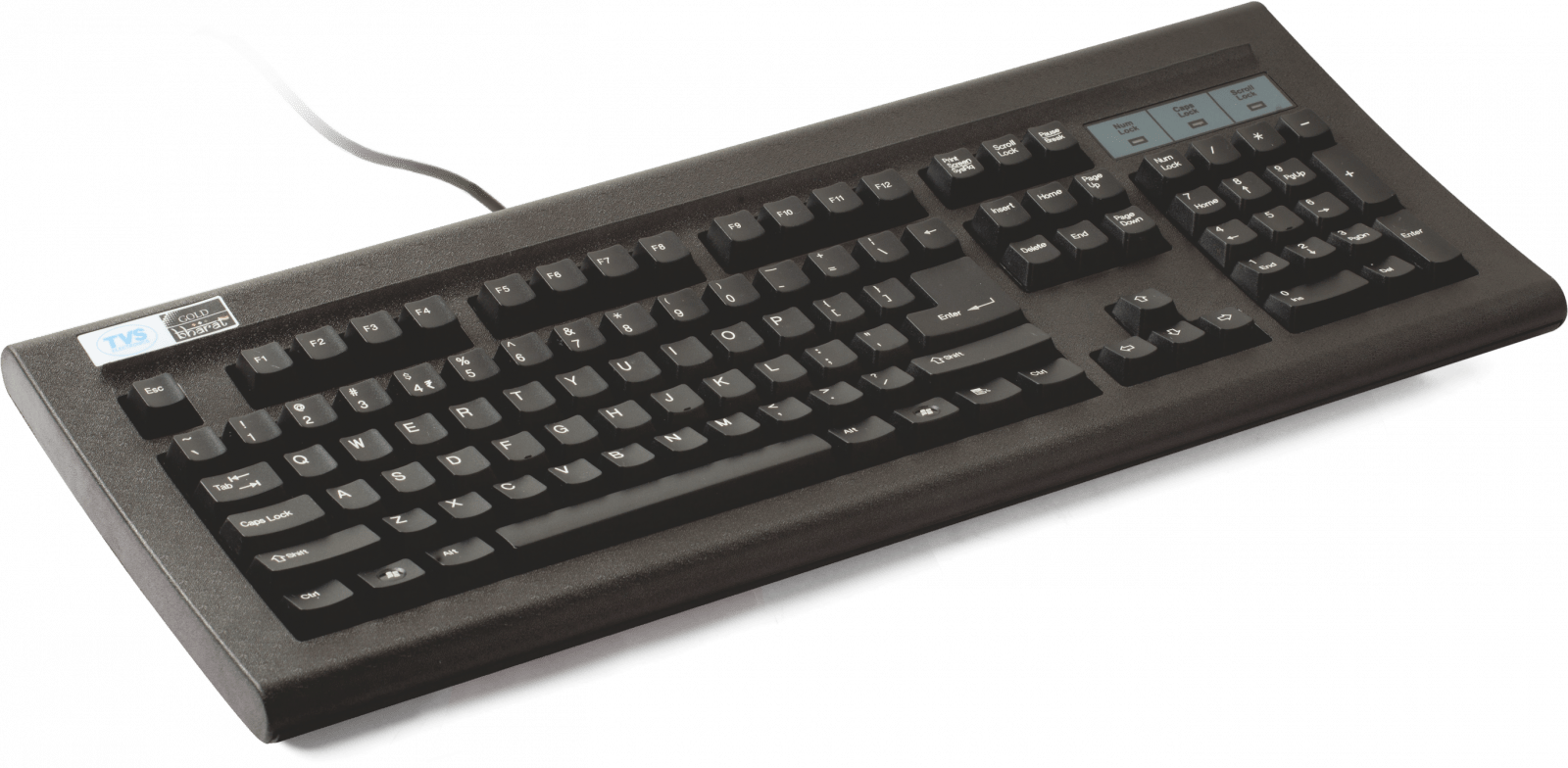 This all-time classic keyboard is designed to be extremely user-friendly and compatible. It is sculpted with an array of 104 keys that provide the 'feeling of click'. Each key guarantees 50 million strokes. The keyboard offers 9 vernacular languages to choose from, along with laser etched characters on keycaps. This is the ideal mechanical keyboard if you spend 7+ hours in front of the screen. 
TVS GOLD PRO – MECHANICAL KEYBOARD
The most important feature of the TVS Gold Pro is that it is dust and water-resistant. The dust-resistant feature avoids any dust particles to settle in between or under the keyboard, and the water-resistant Keyboard protects the system by delaying the amount of time it takes for an accidental spill to reach the mainboard, allowing the users enough time to save their data and keyboard.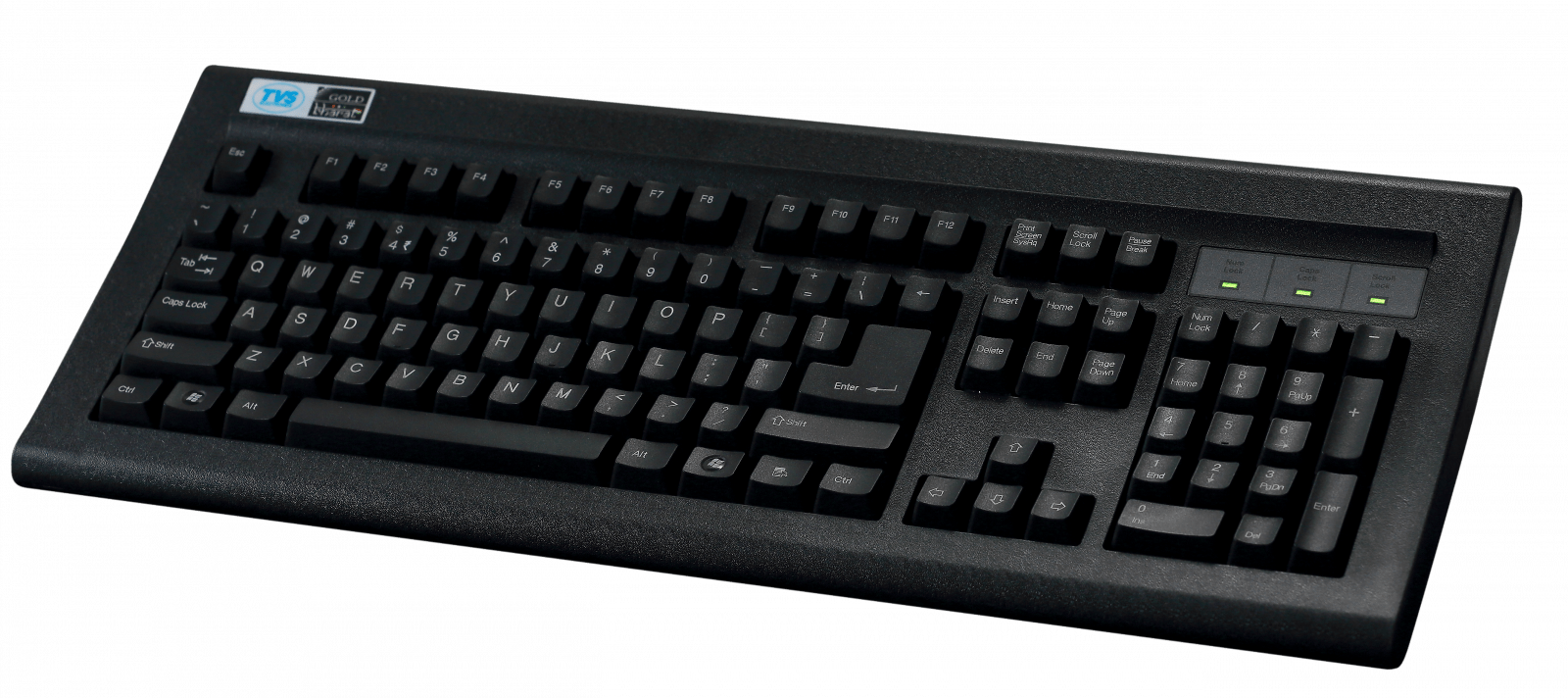 This mechanical keyboard is fitted with a tactile switch and it also comes with a choice of interface – USB/PS2. The laser-etched characters on keycaps is an additional feature, with this, the keyboards offer the option of working in two languages, and 9 vernacular languages to choose from as all keyboards are bilingual. 
TVS GOLD BIO – MECHANICAL KEYBOARD
Be it a personal computer or one used by several people like a common kiosk at a bank, laboratory or mall, the surface of the keyboard is fraught with bacteria and viruses. Amidst the current situation, a keyboard should not be the hub for viruses or bacteria. To counter that and maintain safe and standard hygiene, the TVS Gold Bio Mechanical Keyboard offers a key functionality of the antimicrobial coating that curbs the growth of harmful bacteria and viruses.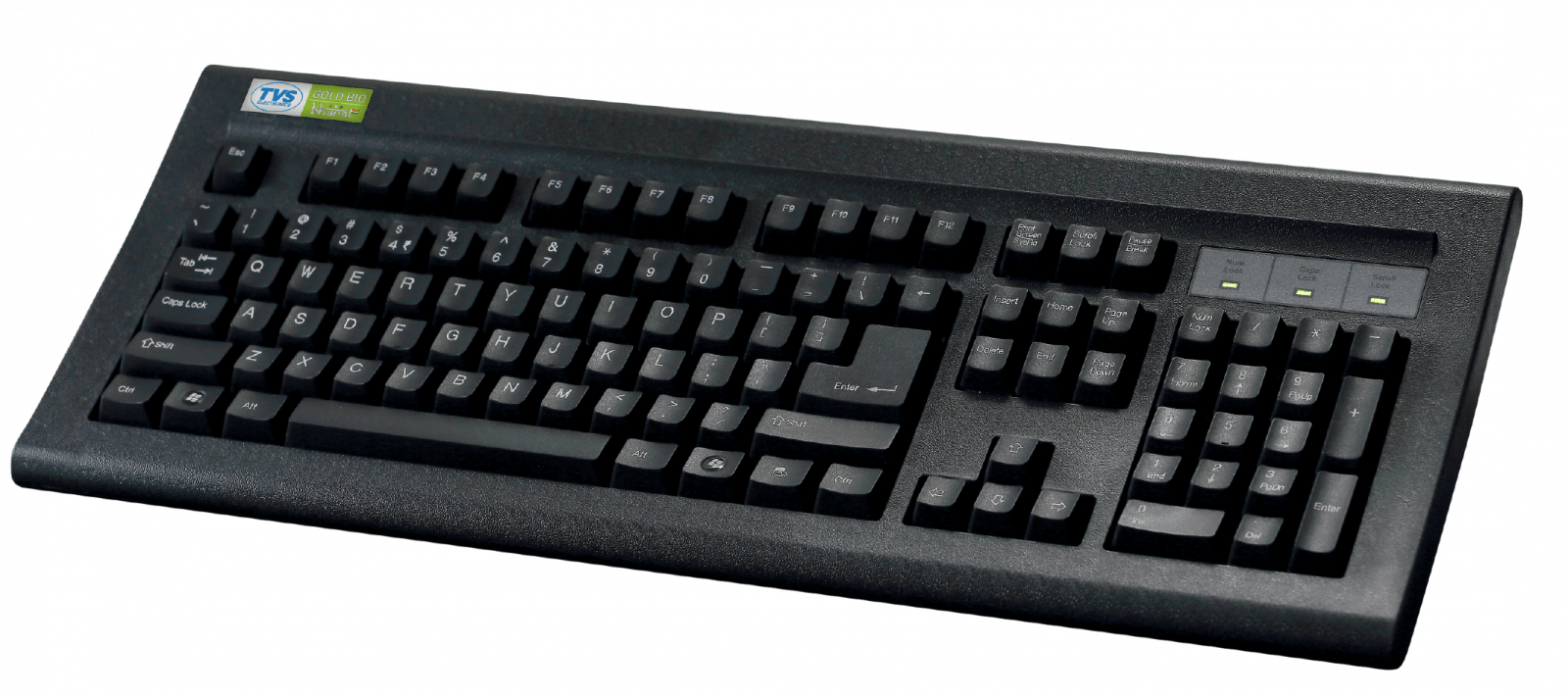 Making it an ideal keyboard to use at banks, BPOs, hospitals or a public office. Alongside the best external feature like the antimicrobial keyboard, the TVS Gold Bio comes with tactile switch feedback and also offers compatibility with the Win XP, Vista, Win7, Win8, Win9, Win 10 and Linux OS. With this, even a Linux user can smoothly access it as well.
 
TVS PLATINA WIRELESS COMBO (Mechanical keyboard + Mouse)
What was the most anticipated product for the users, was made possible by TVS electronics. The TVS Platina Wireless Combo (Mechanical keyboard + Mouse) was designed to be the pinnacle of wireless tech. This mechanical keyboard with its tactile switch feedback amalgamates the joy of the classic typewriter's click with the speed of modern-day technology.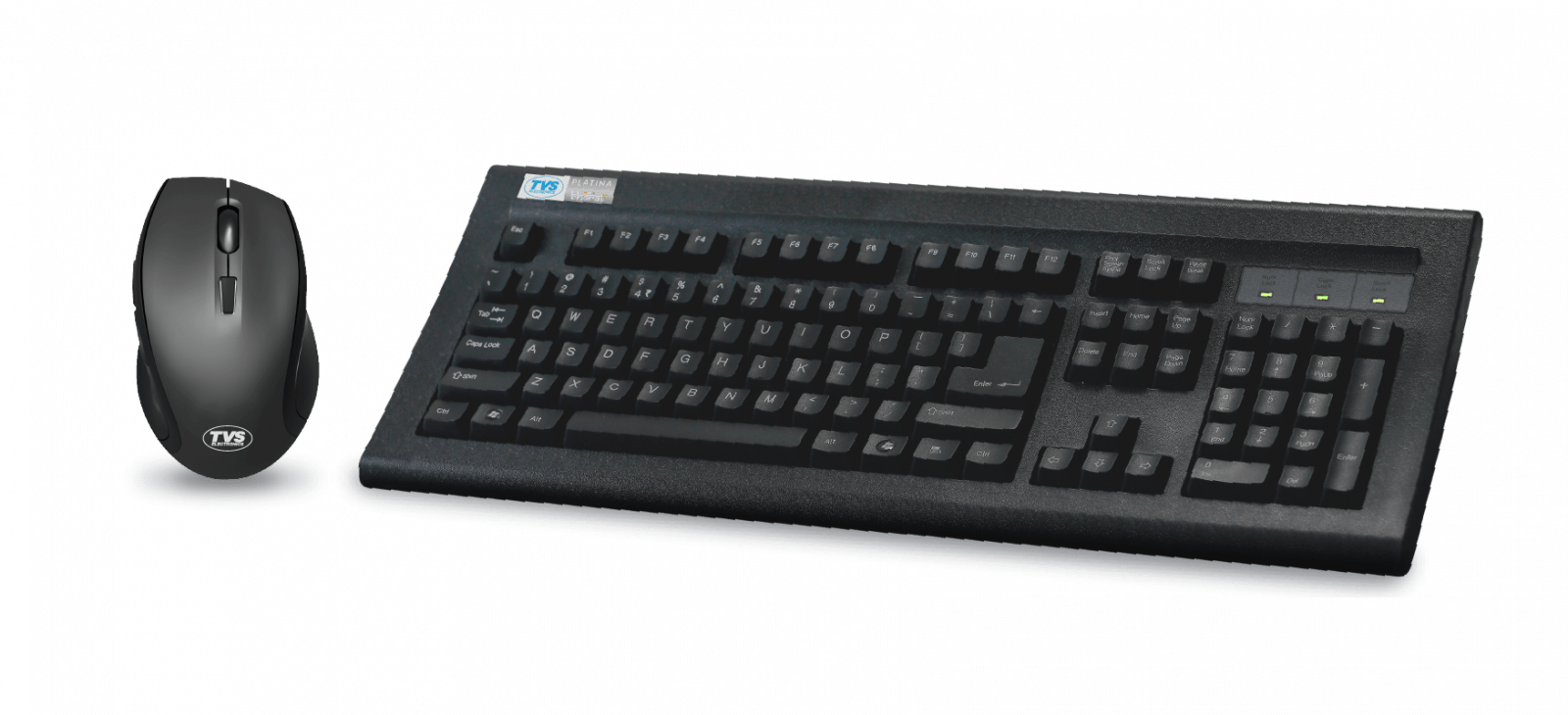 From pro-gamers to an executive in the sales, finance or accounting department, this mechanical keyboard will provide you with ways to improve your functionality and add value to your daily working hours. It comes with an advanced mouse equipped with optical tracking with 1600 DPI and an ergonomic grip for better comfort. This combo of wireless mechanical keyboard and mouse is the key to the future of maximum productivity.
  
To sum it all up, mechanical keyboards are sturdy, efficient and designed for speed and accuracy. So, if you are looking to up your productivity game, then this is your sign to make the switch!
Upgrade to the range of TVS Mechanical Keyboards equipped with the tactile switch feedback for a delightful typing experience.
 
Experience precise typing with each keystroke!
Visit https://www.tvs-e.in/keyboards-and-mice/ to shop for the best mechanical keyboard and enjoy the typing as it was meant to be.
Click… Click… SHOP!

Write to us at sales-support@tvs-e.in or you may visit www.tvs-e.in/product-enquiry/ to get your further queries resolved by our team of experts.