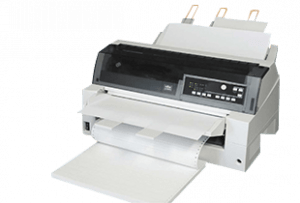 The printer with high performance, the Platina DP 5000  Plus has a high printing speed of 606 CPS, making it the best choice for heavy duty data processing, with intensive usage.

The top print speed, aids easy and hassle-free printing

Prints easily on all kinds of paper, including thick stationery.

Flat bed printing prevents any paper jam, irrespective of the paper.

Unbeatable reliability with 20,000 hours of power life

Suitable for printing documents at a large volume, clocking 1200-1500 pages a day.

Best situated for Reports, Statements and Ledgers.

AUTO-PAPER
THICKNESS SENSING

BUILT-IN INDUSTRY
STANDARD BARCODES


HIGH-SPEED
PRINTING – 606 CPS

HIGHER COPY CAPABILITY
UPTO 1 – 7 COPIES

SUPERIOR
RELIABILITY – 20,000 POH

VERSATILE PAPER PATH FRONT/REAR PUSH TRACTOR

WIDE-INPUT
BUFFER UPTO 128 KB
Bidirectional with logical seeking
24 wire, impact dot matrix
505 cps 10 cpi / 606 cps 12 cpi
240 cps 10 cpi / 288 cps 12 cpi
120 cps 10 cpi  / 144 cps 12 cpi
Original + 4 carbonless copies
Copy Capability at High impact mode
Original + 7 carbonless copies
6″ per second continuous feed
Paper Thickness Adjust Function
LAN(optional) card needed
10 BASET, 100 BASETX, TCP/IP PROTOCOL
Fujitsu DPL24C Plus, Epson ESC / P2, IBM XL24E
220 V AC to 240 V AC ± 10 % single Phase 50 Hz to 60 Hz
5 °C to 38 °C  41°F to 100°F 2080% RH Non-Condensing
600 * 350 * 290 mm 23.62 * 13.78 * 11.42 "
59 dBA / 55 dBA sound proof cover
Parallel + USB LAN Upgradeable
5 Million linefeed or 5 Years
400 million strokes each wire
5 million characters ANK draft quality
For Europe North America and Asia Pacific
Paper Feeding Continuous Form
Push tractor front in, rear out /rear in, front out
Front in,Front out/Front in, rear out/rear in, front out/rear in,rear out
70 – 297 mm 2.76″ – 11.69″
102 – 420 mm 4,0″ – 16.5″
over 102 mm 4.0",over 127 mm P=over 5.0 Inches for rear tractor
Code pages 437, 850, 851, 852, 855, 860, 862, 863, 865, 866, ISO 88591, ECMA94, USA, UK, German, French, Italian, Spanish, Swedish, Finnish, Norwegian, Danish 1 and 2, Hungarian 1 and 2, Slovenian 1 and 2, Mazowia 1 and 2, Polis 1 and 2, Latin 2 1 and 2, Latin P, PGDHN, Elot 927, Lithuanian 1 and 2, Mik, Macedonian, PGMAC, ABY, ABG, DEC GR, GREEK 11, HBROLD, HBRDEC, ISO Turkish, ISO Latin, Kamenicky 1 and 2, Turkish 1 and 2, Elot 928, Cyrillic, RUSCII, Latin9, Spanish1, Spanish2, Japan, Latin A, KOREA, LEGAL Windows Code Page 1250, Windows Code Page 1251, Windows Code Page 1252, IBM437, IBM851
Code 3 of 9 UPC Type A UPC Type A with check character Codabar NW7 EAN13 EAN8 Industrial 2 of 5 Matrix 2 of 5 Interleaved 2 of 5 Code 128
Courier 10, Prestige Elite 12, Boldface PS, Compressed, Draft 12, Highspeed draft 12, OCRB, OCRA 10, Correspondence 10, PICA10
Cut Sheet Feeder Should be used with large stacker,common to rear and front
Lan Card
Large Stacker should be installed for front CSF
Small paper Table
Sound Proof Cover
Tactor Common to rear & front 
*.Maximum Graphics Resolution under Esc/P Emulation only
*. Specifications are subject to change without notice